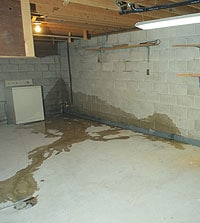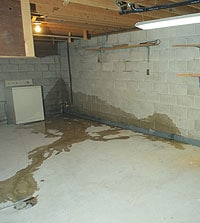 Locating where water is entering your home is key to choosing the appropriate solution, so an inspection of your basement will be needed before we propose a repair solution. Missouri Foundation Repair & Waterproofing provides qualified design professionals to inspect your property to prepare a proposal for the proper repair.
Through the walls: A common basement leak is due to seepage through wall cracks. A cracked foundation will continue to deteriorate and will eventually leak, and this seepage will get worse over time. Other possible areas in the wall where water can get in are through tie rod ends, honeycombed concrete, and pipe penetrations.
Through the floor or floor/wall joint: Most modern homes are built with an exterior drain tile system around the footing to keep water from creating pressure against the floor or cove area (floor/wall joint). Some drain tiles run into the sump pump, others to the city storm sewer system. If seepage occurs in this area, check your pump's operation first, if that is working normally, then your drain tile is not properly functioning.
Over the top of the wall: Water entering at the top of the wall, between the concrete and wooden sill-plate is a serious issue. The soil grade has been built up outside the home, higher than the concrete. Homeowners, in their efforts to keep water away from the foundation, build the dirt level higher than the concrete wall, creating a seepage problem through the below-grade brick or siding.
Leaky/Wet Basement Repair Services
Regardless of how water is able to enter your home, we have the perfect solution for you. We make use of waterproofing products and systems, including sump pumps, drains, and more. Don't let these issues stand in your way, contact the professionals here at Missouri Foundation Repair & Waterproofing for wet basement repair immediately and see how we can transform your basement into a beautiful living space. We service many surrounding areas of central Missouri.