Home Foundation Settlement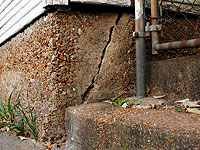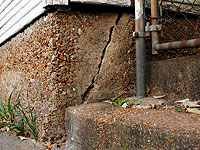 Missouri Foundation Repair & Waterproofing offers the complete scope of foundation repair & settlement products that will fix or repair any foundation settlement issue. Our proven foundation solutions are cost effective and are made of the finest materials available in Columbia, Jefferson City, and Lake Of The Ozarks areas in central Missouri.
The signs of a sinking foundation are not difficult to spot if you know what to look for. Cracks in foundation walls or in drywall sheets are telltale signs of trouble. Stair step shaped cracks in brick or block mortar are always indications that your basement or foundation is shifting. Doors or windows that do not open or close properly; chimneys pulling away from the rest of the building; visibly uneven or sloped floors, all of these are warning signs of a problem.
Signs of Foundation Failure: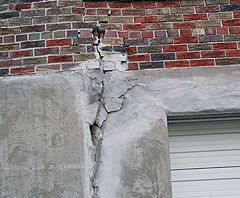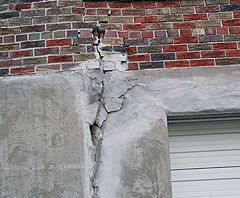 Windows and doors are sticking and hard to open
Multiple nail pops are appearing in ceilings and walls
There are large gaps in window and door frames
Window and/or door trim are developing spaces
Floors are starting to settle and become uneven
Bowed or leaning basement walls
Cracks in your foundation walls
Interior plaster walls are cracking
Chimneys are tilting or leaning
Foundations are sinking
Cracks in your basement walls
Why let the problems continue to cause your home and property further damage; damage that will not only cost you more money in repairs but dramatically lower the value of your property? Missouri Foundation Repair & Waterproofing is your foundation repair and wall stabilization solution.
Sinking Foundation Repair Services
When it comes to repairing sinking foundation problems, we have over 30 years of experience in the business. We know what works and what doesn't, and that is why we only make use of this tried and proven foundation piering technique. Over time, the piers will actually be able to push your home back up to where it needs to be.
A push pier system will be able to mechanically transfer your building load to stable, suitable soils far below the surface of the earth. Using anchors eliminates expensive coring and concrete pier work to stabilize and preserve your foundation. Our Push Piers are hydraulically pushed into the ground to predetermined depths where those deep, suitable soils are found.
First, we attach to your home's footing a series of Push Pier brackets of heavy, industrial-strength steel.
Then, high-pressure equipment hydraulically drives rugged steel piers down to solid bedrock or proper load-bearing strata. Keep in mind that this reinforcement is done below ground, so nothing is exposed. Also, each pier is individually anchored and tested for successful load-bearing.
Finally, the weight of your home is carefully transferred from the original unstable soil to rock-solid piers so your home or commercial building is secure with the pier system permanently in place and hidden from view.
Contact us today to schedule a FREE Foundation Repair Estimate and Inspection.