Crawl Space Encapsulation
Our trained waterproofing experts have performed this process again and again on homes all over the central Missouri areas. Crawl space encapsulation is necessary whenever you don't have your crawl space sealed off from the outside environment. Having a crawl space that is prone to flooding is never a good thing and it can result in a variety of serious problems. In fact, it's important to understand that what happens here can significantly have an influence on the rest of your home, and even on your family's overall health and well-being.
A wet crawl space because of improper sealing or no sealing (crawl space encapsulation system) at all can cause damage to wooden support beams and floor joists under the home. When this happens, you may notice that there are certain areas that don't feel level when you're walking on the first floor, and this is because they aren't. The wooden materials underneath have started to rot away. Needless to say, this is going to cause a lot of problems for the structural integrity of your entire home.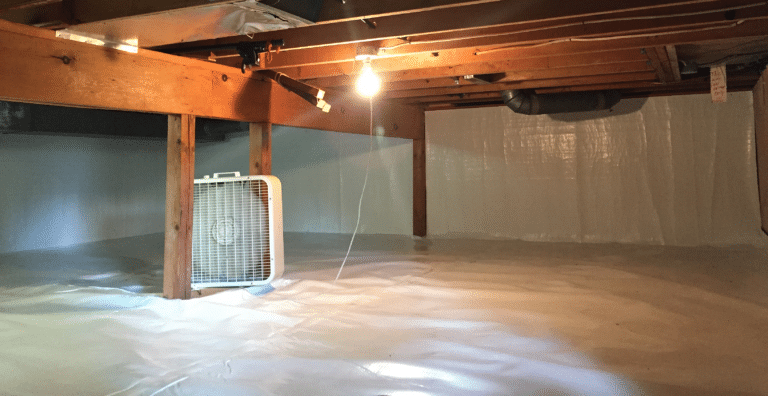 Also, moisture here can trigger mold and bacteria growth. When you have this dangerous fungus growing under your home, it can make your home smell very musty. What's more is that it has the potential to cause a variety of serious medical conditions, including headaches, fatigue, cold/flu-like symptoms, asthma attacks, allergic reactions, skin rashes, respiratory problems, coughing, sneezing, and more.
As you can see, encapsulating this space is very important and the process begins with us installing a vapor barrier and floor liner to permanently seal this space off from the outside environment so that moisture, humidity, and unwanted critters can't get inside to cause problems.
As mentioned above, a vapor barrier will be installed during the encapsulation process. It is a thick, plastic material that will be securely attached to the walls underneath your home. This helps with sealing the space off. The barriers we use have been tested thoroughly, and time and time again they have proven to be effective at keeping moisture out where it belongs. No moisture below a home means you don't need to worry about it causing damage to your wooden supports, or to your family's health because of the growth of nasty black mold.
For more information about our encapsulation process, or to schedule an appointment for a consultation with our team of crawl space professionals, please feel free to contact us today.